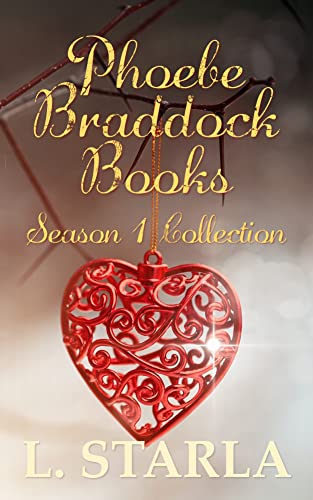 The Phoebe Braddock Books: Season 1 Collection
Forbidden Love & Taboo Romance
Please Note: Due to some unavoidable reasons, the publication is delayed. Please preorder your copy now. You will received the book as soon as it is live. 
I Heart Mr. Collins: Phoebe Braddock's Love Story
Is it possible to find love without boundaries?
I might have described myself as innocent a few months ago, but that was before my schoolgirl crush turned into something real and passionate beyond my wildest imagination. Now my lustful appetite has awoken and there is no going back.
The problem is, no one else can know what I do when alone with Mr. Collins because it would jeopardise his career. Other people wouldn't understand what we have.
At least graduation is just around the corner and I will strike off lying and deception from my current list of sins. That is my hope, but will I find the courage to be completely honest with everyone?
From Prying Eyes: A Phoebe Braddock Romance
Is the true expression of love really a sin?
Haunted by visions of a mysterious stranger making love to her in the dark, Sophie is torn between affections for the guy she's had a crush on for years and strong yearnings for the man of her dreams. And she can't shake the feeling that there is something familiar about her fantasy lover.
Then one fateful night, her dreams come to life at the debutante ball where Sophie is swept off her feet for several blissful minutes. But when the masks come off, she is forced to accept the shocking truth: her enigmatic lover is no stranger.
Does she deny her deepest desires or pursue a forbidden passion?
Crystal's Crucible: A Phoebe Braddock Romance
The laws of attraction are quite beyond science.
Crystal loved rules. A set of principles governed her life. That is why the physical sciences appealed to her. Logic and reasoning kept her afloat amidst the sea of family drama. Intimacy was not part of her equation; she had excluded that variable years ago after a string of disastrous relationships with men who wanted nothing more than sex.
The day she walked through the doors of Aludel Pharma, locking eyes with Adam Fairfax, everything changed. The chemistry between them brought her carefully constructed system crashing down around her. He was her boss, completely off limits. Crystal thought he was safe to admire from a distance. She was wrong. With the magnetism pulling them together, Crystal needed to choose which opposing rules she would break.
And she needed to act fast because a conspiracy was brewing in her department, threatening to bring her down or take her out.
Surprise
Don't miss the exclusive spooky surprise coming to my newsletter on 15th Oct.
Winter's Mother 1 TBR Sweepstakes
The Winter's Magic saga continues with Winter's Mother 1, which is coming to bookstores this November. Add this book to your TBR for your chance to win a signed paperback, or one of 4 eBook copies.
All winners will also receive eBooks of the first three titles in this series.